Andalucía currently accounts for 20% of all property purchases in Spain. However, in the first half of 2019, the number of overseas buyers dropped by 6% compared to the same period in 2018. 
On the other hand, Andalucía's tourism market has experienced further growth, setting an all time high of 12 millions visitors in 2019.
Malaga Accounts for 30% of Property Sales in Andalucía 
Malaga is the most popular province in Andalucía for property purchases. In 2019, it accounted for 30% of total sales in Andalucía. Within the province of Malaga, only 5 towns account for 53% of property sales: Mijas, Marbella, Estepona, Benahavis and Malaga City. 
Average Property Prices Rise in 2019
Malaga City experienced an increase of 3.2% in property prices from 2018. Other areas such as Marbella, Estepona and Benahavis have also seen increases of 8.5%, 7.6% and 0.8% respectively.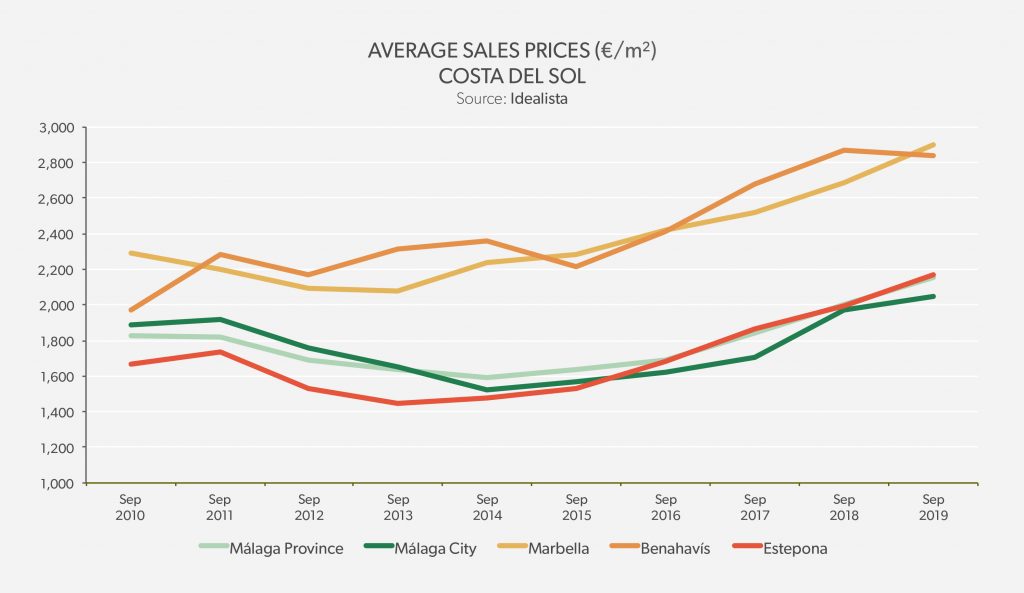 Demand for New Developments Along the Coast 
There has been an increase in demand for new developments that offer minimalist architecture and contemporary designs. However, since the recovery from 2008, the supply of new houses and apartments lagged way behind demand. Consequently, this imbalance inflated new-build prices to a level that analysts believe is not sustainable. 
Analysts also predict that buyers who purchased in early phases of some new developments will find their property is worth less than they paid by the time they move in.
Supply of New Developments
51% of the 18,171 building permits approved in Andalucía in 2019 were for Malaga. Therefore, the supply side is improving to try and catch up with demand. The fear is that, if demand begins to fall during 2020, new-build prices will come under serious pressure. Also, the asking prices of some new-builds can be difficult to justify because many are not well-located. So it will be interesting to see what happens to demand levels throughout the year. 
Consider Resales
If you are in the market to buy this year, don't just consider new developments. Resale properties are likely to be bigger, and in a better location for a lower price. When conducting your search, make sure you factor in possible renovation costs for resale properties, and compare prices with location in mind. 
We can help with your property search, providing guidance and our honest recommendations along the way. We use our 15+ years' experience to inform you on current market conditions and help you find the right property. Reach out to us to see if there is a property that fits what you're looking for.
Data Sources: The Property Finders, Lucas Fox, Tinsa.