Deciding on how to ring in the New Year? Below you'll find out where all the parties are and how to celebrate New Year's Eve in traditional Malaga fashion!
Hotspots for Celebrating the New Year
Most towns along the coast have organised a party to celebrate New Year's Eve, but where exactly are those parties going to be? And what time do they start? 
Malaga
First of all, Malaga Centro traditionally host a party at the Plaza de la Constitución that will start at 10pm. This is the busiest square in Malaga and the atmosphere is incredible. A live orchestra will be playing from 11pm, and music will continue until 2am. Don't forget to collect your grapes and 'cotillon', which is a bag full of everything you need to celebrate in style!
Plaza de la Constitución: https://goo.gl/maps/n2UMqmuFm7CF97Ew9
Benalmadena
If you do not want to travel into Malaga Centro, Benalmadena and Arroyo de la Miel will be celebrating at Plaza de la Mezquita from 11:30pm with a live orchestra.
Plaza de la Mezquita: https://goo.gl/maps/CktANjEc2Ev9MYgX6
In Benalmadena Pueblo, you can head to Plaza del Alguacil where there will be a 70s, 80s and 90s music party and free grapes to ring in the new year, starting at 10:30pm.
Plaza del Alguacil: https://goo.gl/maps/XUhrJDwCDWqdZcqV7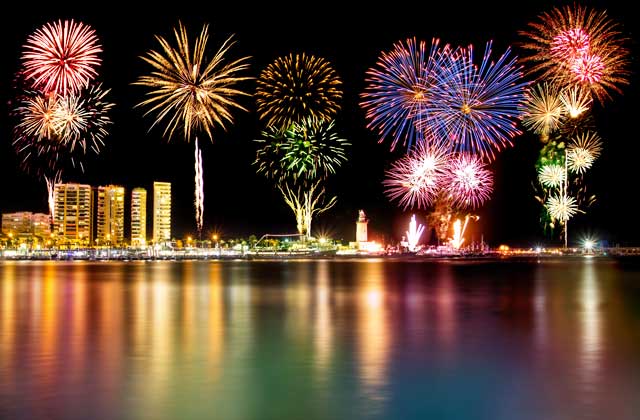 New Year's Eve Traditions in Malaga
Perhaps you don't want to join the crowds in Malaga or Benalmadena and prefer to celebrate New Year's Eve at home with family. For a traditional Malagueño New Year's Eve you will need 12 grapes for each person (supermarkets usually sell grapes in tins of 12) and a few bottles of champagne.
Champagne is enjoyed throughout the night and you must eat 12 grapes in 12 seconds leading up to midnight, one for each second. It is said that this tradition brings good luck for the coming year.
If you're thinking of buying or selling property on the Costa del Sol in 2020, Rainbow Realty has over 15 years of experience and 5 star reviews for listening to our clients and consistently providing an excellent service.
Thank you for your continued support and Happy New Year!